17 Jan

Demodex Mange

Posted at 19:57h

in

FAQ's
Do I have a poorly bred dog because he has DEMODEX?
Many veterinarians believe that all dogs have small numbers of Demodex mites residing in the skin and that having a few mites is normal and common. It is when immune related, or nutritional or environmental stresses impact the dog that visible skin lesions from mite infestations become noticeable.
Can Demodex mites be inherited?
ANSWER: No. The mites are not present on the fetus while the fetus is developing from an embryo in the uterus. However, if the mother has Demodex mites present in/on her skin, the mites can invade the new fetus' skin immediately after birth. Since many dogs have Demodex mites present in their skin, and never actually develop noticeable skin lesions, the mother may not even be showing any signs of mites and yet transmit mites to the newborn pups. The pups may or may not develop a clinical case of mites
What are the accepted Treatments for Demodex in the dog?
Mitaban was a commonly used treatment for Demodex and had a proven record of successes. This prescription-only product is diluted with water and applied to the dog's skin according to the product directions. Repeated applications are almost always required. This product may no longer be available. On occasion a veterinarian may decide to use a product called Ivermectin. This product must be very carefully calculated regarding dosages that are effective and not toxic. The use of Ivermectin in treating Demodex needs to be discussed with the owner prior to use since it has not been labeled for use against Demodex. Another treatment that is sometimes used is oral milbemycin given daily for six to eight weeks. Lime-Sulphur dips have been used in the past and some veterinarians continue to prefer this therapy for demodex. Ivermectin in fairly high doses is also used… with owner's consent and with caution!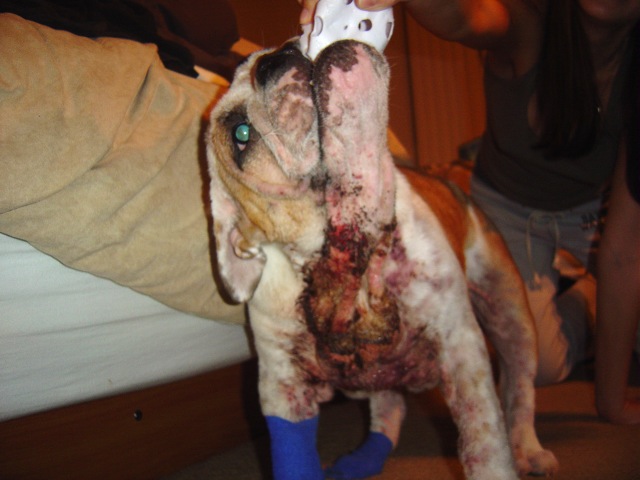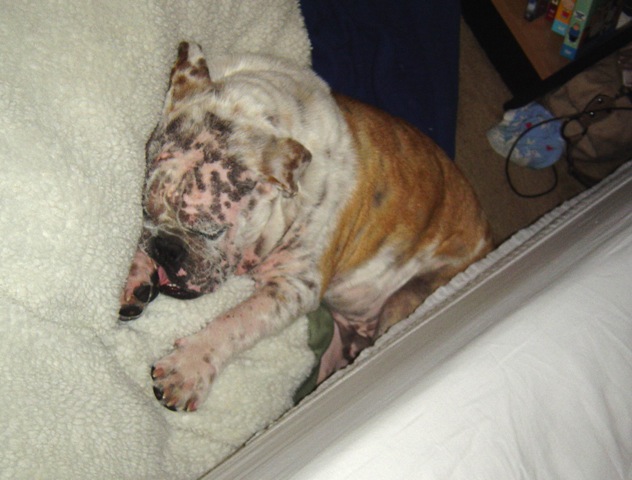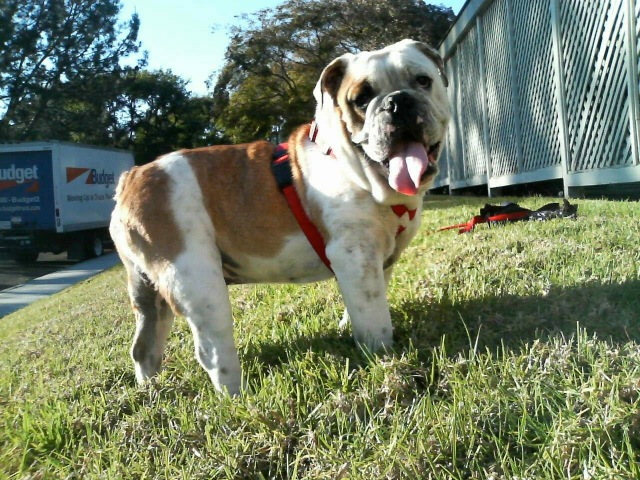 Frank:
We rescued Frank from his owner who was at her wits end in his treatment. They no longer had the time or willingness to help him. Two months later he has recovered 100% and currently lives with a wonderful family in Southern CA. We have been able to keep his Demodex suppressed and he has had no further outbreaks. Franks new family absolutely adores him. Can you tell? Fank has been free from symptoms for more than a year now and is doing awesome. We love you Frank.
Hi Todd & Family,
It's the Brooks Family here in Yorba Linda, CA. We adopted the Magnificant Frank back in June 2006. You had resuced him from a prior owner when he was suffering from Mange. Well….he is GORGEOUS!! Fat & happy. (he's on a bit of diet right now). We thought we would send some photos taken yesterday at the lake right down the street from our house.
Hope all is well with you & your family.
Dow, Megan, Daniella & Frank "The Tank" Brooks
xoxoxoxo 7-27-08
Drucilla:
A year or so ago, one of our associate rescue groups, Animal Pals in Temecula called us to rescue Drucilla. She was found walking the streets with a terrible case of Demodex. After 2 months of treatment she was totally cured and has been mange free since.
This picture does not show the real magnatude of the Demodex. It is my belief that her owners, put her out instead of spending the money to fix her. What a shame. She is a great dog. We spayed her and she currently lives with my friend in Riverside County, CA. I will get a picture of her soon and post her NOW picture. She is gorgeous.