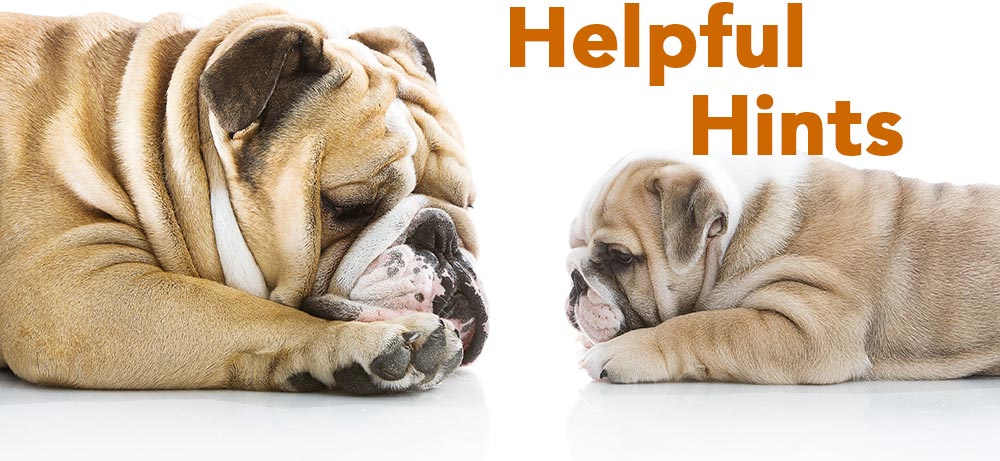 27 Mar

HELPFUL HINTS FOR EVERY BULLDOG OWNER
1. BULLDOG HEALTH
As a Bulldog owner I recommend that you go to www.bigbulldogs.com and read our FAQ section. There you will find answers to almost everything regarding your Bully consolidated on a singe page.
2. FOOD
VICTOR HIGH PRO PLUS. (PURCHASE AT CHEWYS.COM or TRACTOR SUPPLY) 
 FEEDING: Offer 12oz of food 2 times daily. I normally feed at 8am and again at 5pm. In the beginning if they don't eat all of it just let them eat it next time. Keep available to them for at least an hour. Make sure Bullie has plenty to eat. If they appear as they are starving to death every time you feed them it means you're not feeding them enough.
Soak food with hot tap water for 15 minutes. Since baby Bullies have small tracheas, soft food is easier to clear if they aspirate. As they grow, their trachea grows, so after 16 weeks of age you can stop soaking the food.
KEEP BULLIE CONFINED FOR 90 MINUTES AFTER EATING. Helps to prevent aspiration. When they get excited and play on a full stomach they have a tendency to regurgitate which can lead to aspiration. (Aspiration is when food is inhaled into the lungs and often turns to pneumonia.) This unfortunately is very common in young Bulldogs and can be very dangerous as well as expensive. Practice this for their entire life. Walking after eating is fine but not running and playing.
3. SKIN PROBLEMS
COVERS FLEA, TICK, HEART WORM & DEMODEX: 
 BRAVECTO (Over 6 months old)
NEXGARD (Under 6 months old.) CANADAPETCARE.COM (No prescription needed.)
4. ORDER NU-VET PLUS VITAMINS
Most issues in Bulldogs, start from a compromised immune system. Nu- Vet Products are a strong multiple vitamins and joint support that helps to limit certain health issues. I think a Bulldog should take Nu Vet Plus and Nu Joint Plus for his entire life. It boosts his immune system and lubricates his joints. It's also liver flavored so that it is kinda like a great for them. Start with 1/4 tab of each daily and increase dosage weekly until you get to manufacturers recommended dose located on bottle. You can follow this link to purchase -> https://bigbulldogs.com/nujoint-nuvet-plus/
5. EAR MAINTENANCE
Clean ears with a 50% white vinegar & 50% alcohol weekly. I use a spray bottle and spray a generous amount and massage base of ear for 30-seconds or so. (You cannot put too much so don't be afraid) Get all the goop in the ear crevices. This will help keep ear infections and yeast from forming. If you have something stubborn, use ECHO EAR by Vet Organics on line. Use a Q-tip, paper towel or baby wipe to clean the upper crevices. DO NOT ENTER EAR CANAL UNLESS YOU ARE EXPERIENCED.
6. BATHING
Do not bathe your Bullie so much that you dry out his skin. 2 x monthly is adequate with Dawn dish washing soap. Take special attention when RINSING him to ensure the removal of all soap. Bullies can get a very itchy rash when soap is left on them.
7. CHEW TOYS
Number 1 play toy, empty (WATER BOTTLE). Strip off the paper, top and top band. Also I have found that Bulldog Puppies enjoy the dried pig hooves that you get at the local pet store. However be aware that adult Bulldogs can chew them up and swallow them causing issues. Therefore you need to monitor to ensure that it is being used as a CHEW TOY, not a SWALLOWING TOY……. THEY LOVE KONGS!
8. NO TREATS RAWHIDE OR PIG EARS
They cannot properly digest raw hide & pig ears. Your Bulldog will swallow them whole and it can lay in their stomach for a long time and cause big problems. For training treats use a small piece of CHICKEN JERKY or a small piece of Chicken about the size of your finger nail. Regular treats from the store will often cause diarrhea.
9. FIRST WEEK
Add 2 tablespoons of canned pumpkin to puppy's food. Helps firm stool. (ONLY IF NEEDED)
Thinking about getting a French Bulldog? Maybe it was the English Bulldog who stole your heart? Find out more about these unique breeds: