20 Jan

HOW TO CHOOSE BEST BULLDOG BREEDERS

If you're considering buying a dog, you must spend time trying to find the right breeder. By this, we mean both finding a breeder that has healthy dogs with good and finding one that breeds for good temperament as well as conformation. Sometimes people make terrible mistakes when they buy dogs from breeders, because they do little research in trying to find a reputable english bulldog breeder.
Why choosing a bulldog breeder is important?
If you purchase your Bulldog from an experienced reputable breeder, they will be more than happy to assist you with helpful answers to your bulldog health and training questions for the life of the dog. Since bulldogs often play by a different set of rules than other breeds, it is important to have a trustworthy mentor throughout your bulldogs life. Solid advice and being able to point you in the right direction when health problems or training problems arise can literally save you thousands of dollars and unnecessary heartache. If you decide to purchase from a breeder that has limited experience then you will more than likely be given limited information and will be on your own at the mercy of expensive veterinarians and trainers.
Selecting the right breeder is a very important first step toward having a healthy english bulldog puppy. There are many breeders out there who claim to sell "rare" or "purebred" French bulldog puppies for inflated prices, but you need to choose your breeder carefully. Good quality and responsible breeders will usually ensure that their pups are:
Healthy and well socialized

Crate trained and familiar with home environment

Under warranty for 2 years against genetic defects that could cause mortality.

Up to date on all vaccinations and dewormings.

Breeder is available to consult you for the life of your dog.
English and French Bulldogs – only from trusted breeders
The main objective as a breeder is to find two healthy unrelated dogs of the same breed that are a good genetic match for each other. The Female bulldog puppy breeder's job is not only to bring the pups into this world but also to ensure that they are healthy and well socialized so you receive your new puppy in tip-top shape. A reputable Male bulldog puppy breeder will allow you to visit their home or kennel and see where the puppy was raised. The more time a breeder takes with each puppy, the better they are socialized and set up for success in their new homes. A reputable breeder of Bulldog puppies has the perspective breeding pair examined by a qualified veterinarian before breeding them to ensure that they are healthy and free from blatant congenital defects that could be passed onto the offspring. ie… heart, eyes, knees and hips.
both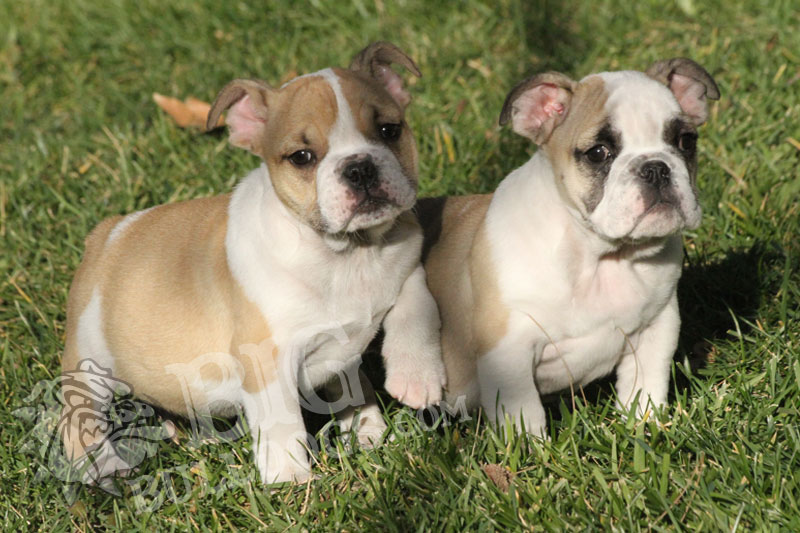 Factors to consider to help you choose the best bulldog breeder
1. Reputation:
Reputation is everything in business and this applies to breeders as well. Getting good reviews from your peers and the public is an indication of quality service. When you see someone with a nice bulldog, ask where they got it. If they had a good experience and you choose the same French Bulldog and English bulldog breeders then you are likely to have the same experience.
2. Better Business Bureau rating:

The BBB (Better Business Bureau) is a great source that many people in the internet age overlook. It is easy for a scam breeder to have their friends write 5 star reviews about them on various platforms. It is also equally as easy for them to have their friends write 1 star reviews about their competitors on these same platforms that go unchallenged. However the BBB does an investigation into all complaints asking for evidence of wrong doings on both sides. They act as a mediator to settle business disputes, therefore you can usually be sure that if the breeder is not accredited or has a bad BBB rating you should not purchase from them.
3. Breeder Social Media Pages:

Word-of-mouth is more effective than calling a company and asking for a sales pitch. Avoid breeders that only have the breeder's word to rely on. You can see what their previous clients are saying about them by engaging the breeders social media. When people have great experiences and love their bulldog puppy they cannot help but post and boast about them publicly.
4. Type of bulldog:
If you do not know what type of bulldog you want from the very start, a reputable breeder will be happy to explain the difference in the French Bulldog and English Bulldogs. Take your time in researching the right match for you and your family. Some breeders breed bulldogs of different lineage with various colors, coats, bone structure etc… to accommodate different client's tastes.
5. Do they do any health testing?
A reputable breeder does all it takes to ensure that he is breeding healthy animals and does not take shortcuts in doing so. A reputable english bulldog breeder will not breed animals that have blatant congenital defects such as bad allergies, heart, eyes, knees, hips, jaw deformities or abnormally small tracheas to name a few. A reputable breeder will not spare veterinary expenses in determining the health of their breeding stock.
6. Ask about the genetic testing of the parents:

Ask about genetic testing of the parents. Even though it is common for English Bulldog Puppies to have shallow hip sockets, loose knees, but this should not be to the extreme as to cause a future problem. The best way to ensure this is to have the parents tested prior to breeding. In other words, if one of the parents has a defect then there is a good chance this defect will manifest in the offspring as well. A reputable breeder will never breed inferior parents because the last thing they want is to produce unhealthy puppies that may lead to costly vet bills themselves or their new owners.
7. Have the puppies been Vet check:
The breeder should have the puppies checked by a licensed vet. The main purposes is to ensure the puppy does not have a congenital defect such as heart, hips, eyes, knees etc….. If a puppy has a heart murmur there is a good chance they can die prematurely depending on the severity of it.
8. Contract:
A signed contract containing terms and conditions of purchase, payment schedule, and guarantees will help avoid future conflicts in case there are problems in the future. In California there is a California Puppy Lemon Law that gives a buyer rights if they buy a puppy that is unfit for purchase. It is the breeders responsibility to make you aware of this law and it must be explained in the purchase contract and a reputable breeder knows this.
9. Price & Payments:
Prices for bulldogs vary from breeders to breeders, but be aware if the price seems too good to be true it usually is. A reputable breeder will not ask you in advance for cash, western union, cash app or any other means that nullifies his insurance if the purchase goes south. Remember, if you pay with a credit card and you do not receive a bulldog puppy then you are insured and the bank will return your money. It's always best to visit the breeder in person in order to prevent this from happening.
10. Age of the bulldogs:
A reputable breeder will not sell you a puppy under 8 weeks of age. Even though mothers wean their puppies around 3-4 weeks old, the bulldogs immune system still needs to become stronger to ensure that the puppy does not get sick as soon as you get them home and cost unwanted vet bills. English Bulldog puppies have a weak immune system to begin with as babies and some breeders will not sell you a puppy if you are far away unless they are 12 weeks or more. Every reputable breeder will encourage you to bring the puppy back to the breeder or to his vet if they develop a sickness within the first week of going home.

10. How long have they been breeding?

Breeding Bulldogs is very difficult and far different than breeding most other breeds. Bulldogs must be artificial inseminated, c-sectioned and many times the mother does not take care of them so all the feeding and care falls on the breeder. The more years a breeder has been in business is proof that he knows what he is doing and can offer quality service. It does not automatically mean that a breeder with fewer years of experience is bad. He may just lack the exposure and experience of breeding, but it does not necessarily translate to poor quality of service. However a well experienced breeder can save you thousands of dollars in pointing you in the right direction and helping you care for your Bulldog throughout his or her life.
11. How do they prefer to communicate with the buyers?
A reputable breeder may initially text or email with you, but will always want to have a verbal conversation with you and or meet you in person. If the breeder insists on text messaging or emailing rather than face to face or speaking with you verbally on the phone, they are most likely attempting to scam you.
12. Are they welcoming and inviting you to come visit their home or kennel?
Any reputable breeder will encourage you to come and visit the puppies so that you can interact with them and both you and the puppy can choose correctly. They will never ask to meet you on the side of the road or in a parking lot. They will not have you to visit until the puppies are at least eight weeks old and have had two vaccinations. If they encourage you to choose a newly born few week old puppy from internet pictures, it's not a good idea.
You have no idea about the puppies health, looks or personality as they change greatly in the first two months of life. If you choose under these circumstances you are taking a big risk. If a breeder invites you to meet the puppies before they are of substantial age and immunized, this means they are likely very inexperienced or careless. It is very possible that a well meaning prospective buyer could bring in a deadly disease such as parvo on their shoes and kill all of the puppies.
13. Does the breeder require a deposit?

A reputable breeder is most interested in matching the right person to the right bulldog puppy and less interested in taking a deposit. Deposits can get very problematic. For example, If you put a impulsive deposit on a two week old puppy, and something happens in your life aa few weeks later and you decide against the puppy, you just lost your deposit. Or worse, since Bulldog puppies have a very high mortality rate in the first six weeks. What if your puppy passes away and all the other puppies are taken? Many times the breeder will ask you to wait until the next litter which could be a year or more. A good breeder will usually not be interested in a deposit but will have you visit and choose your puppy when they are ready to go home.
These factors apply from different bulldog breeders including;
BigBulldogs breeders is one of the best bulldog breeders. If you are in the market in search of the best bulldog breeder, bigbulldog.com is a good place to start your search. It is equally a good site if you're searching for Bulldogs for sale.